1. Character name, class, and primary spec:
Záne - Combat Rogue
2. Your age and location:
19, West Virginia
3. Link your Armory profile:
(Please remember to log off in your PvE gear so we can make a serious evaluation of your armory profile.)
Záne
4. How did you hear about Standing in Fire?
From the Arthas World of Warcraft Forums.
5. Describe your offspec gear sets. If you play any level 85 alts, link their Armory profile(s) here:
Only play subtlety when it's absolutely needed, and do not carry a 2nd gear set around for it as it's not needed.
Zäne - Priest - Arthas
Zane - Death Knight - Skywall
Banearrow - Hunter - Skywall
Gorlinwulf - Paladin - Skywall
Grezlok - Shaman - Skywall
Nakazz - Warlock - Skywall
Warriorwithn - Warrior - Skywall
Sargonis - Mage - Skywall
Nanthiel - Druid - Skywall
Liked doing alt runs and such for my guilds back on Skywall, back when I played all day lol. Also had some time the last few months to finish up a couple of them while I was busy with real life and wasn't raiding.
6. Describe in detail your previous raiding experience. Include any experience in classic WoW, TBC, WotLK, and Cataclysm, and list significant hard-mode achievements you have completed. If you have any logs available (wmo, wws, wol) link them here:
Up until 4 Horsemen in Naxxramas40 on my rogue
Everything but Sunwell on a Priest during TBC, All of T4 and some of t5 on my Rogue.
Naxx10/25 cleared current content on a Hunter.
Skipped Ulduar due to RL issues. Cleared 10 with Drake during ICC.
TOC10/25 cleared, 5/5 TOGC10 49 attempts(QQ, bugs)(DK Tank/Rogue)
ICC10 11/12H with ~200 attempts on HLK10(DK Tank)
ICC25 9/12H with multiple H Put/Sindy attempts(DK Tank)
5/13 25H T11 on DK tank. Mag/Mal/Atra/Chim/Halfus Ton of attempts on H ODS and H Conclave.
6/7H 10&25 FL On Rogue. ~300 attempts on H Ragnaros, saw P4.
8/8 DS25N first week. 1/8 H 2nd week. 5/8 H now. On Rogue.
Ultraxion 10H.
(Recorded by someone else)
Ultraxion-Madness 10N
That's all I have.
7. List your usual play times. Can you maintain 90% attendance?
Generally get on every day, wouldn't have any problems making raid times unless of a family emergency.
8. List all other guild(s) you have been in and briefly detail why you left:
Choice(Skywall): Left due to getting sat as a DK tank and DK tanks weren't doing stellar during FL in 25 man. Also planned on moving soon and wanted different raid days at the time.
Hallowed Be Thy Name(Skywall): Disagreements with the guild master.
Adelante(Arthas): Did Firelands with them and had to quit week 2 of DS, come back and they don't seem to need any rogues and haven't raided in a few weeks anyways.
9. Why do you want to join Standing in Fire?
I liked what I read in your information thread, I personally am just tired of all the drama and yelling that comes from raiding at this point. I want a "laid back" atmosphere where stuff still gets done and you guys seem to be that.
10. List any friends, acquaintances, or references who are currently members of SiF:
I really haven't done anything outside of guild on Arthas thus I don't know anyone.
11. Do you have Ventrillo, a working mic, and a reliable internet connection?
Yes, yes, and so far yes. Bought a new headset(Razer) a few months back. Just moved, not a stellar internet connection but I have no issues with lag in 10s or 25s.
12. Which do you use: DeadlyBossMods, BigWigs, or Deus Vox?
DBM.
13. Is English your primary language? If not, what other languages do you speak?
Yes. I can't speak any other languages.
14. Would you rather be a stalactite or a stalagmite?
Stalactite, because they rise from the ground.
15. Tell us something about yourself.
Well, hello there, I'm Christopher and I grew up in Southern New Jersey. I went to a private christian school most of my life, and I spent most of my free time with computers. Yes, I'm a complete geek... Lately I've been working on my car & helping my parents out with fixing up our new house in West Virginia(Needs a lot of work
).
Guess that's it, I'm a rather boring person >_>
16. Repeat your answer to question 15, but talk like a pirate.
Well, ahoy thar, I be Christopher 'n I grew up in Southern New Jersey. I went to a private christian sword fightin' academy most 'o me life, 'n I spent most 'o me free the hour wit' computers. yarr, I be a complete geek... Lately bin be sailin' on me ship & helpin' me parents out wit' fixin' up our new ship in West Virginia(Needs a lot 'o set the sails
).
I cheated and used
http://postlikeapirate.com/
but I think that site made it much more hilarious than I ever could have.
17. Post a screen shot of your UI in a raid setting. Display your FPS and ping mouseover in the shot.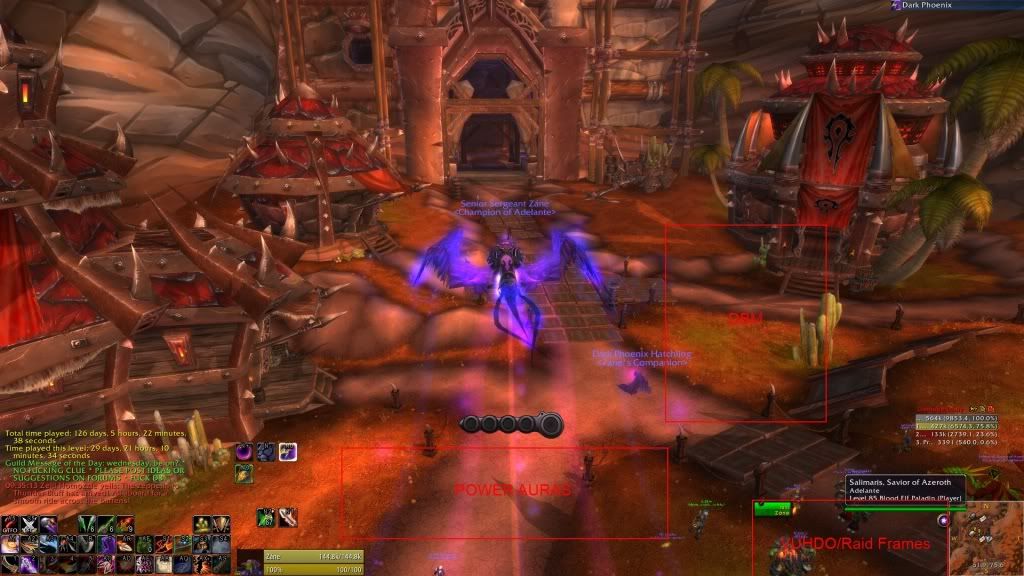 Recount/RaidBuffStatus hide during combat. I'm use to my keybinds at this point and watch all CDs with Power Aura's so I'm thinking of hiding my action bars as well.
LFR is slow at this time of morning, I'll nab an actual raid screenshot later if you'd like. Also, I was getting 40-50 FPS in 25 mans before quitting, and I currently get 50-80ms in raids.(Home & World)